Royal Embassy of Cambodia in Egypt
Royal Embassy of Cambodia in Egypt
Contact information
Address: Villa No.2E, Gamal Hemdan St/Charles De Gaulle St., Dokki, Giza, Egypt
Phone: +202 37629973/ +202 33351137
Office Hours: Monday- Friday: 8:00 am - 17:00 pm
Embassy Location Map Giza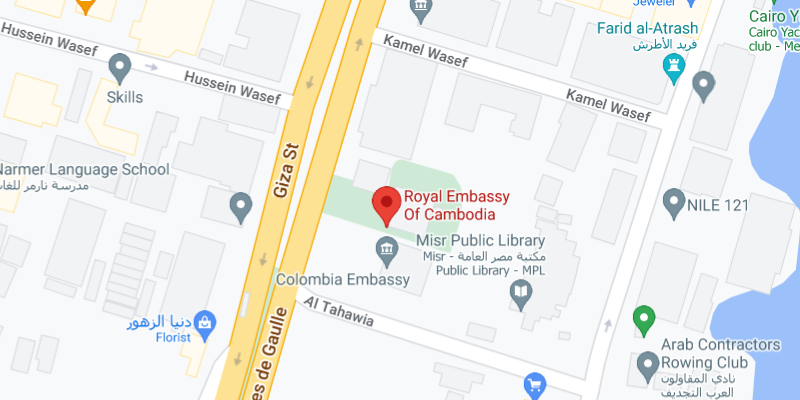 Map Reference
City: Giza
Latitude: 30.03340996969986
Longitude : 31.217999284525234
Current Time : Wednesday Oct 04, 2023 05:25 AM
INSTRUCTIONS
Travelers residing in Giza, Egypt may have two options to get a visa for Cambodia:
- Apply for your visa in person or by mail at the Royal Embassy of Cambodia in Egypt (see the above address);
OR
- Apply online for a Cambodian eVisa at https://www.cambodia-visa.com/apply.html. With this option, you will need to submit an eVisa application form online and upload your passport's bio page along with a 4*6cm photo. The process takes 3-5 working days for standard processing and costs between 1112.71 EGP to 2318.14 EGP per person
For further information, Please see requirements for Cambodia Visa application.
Other Cambodia Embassy